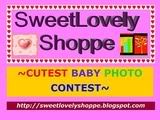 This is another attempt of trying my luck in the online contests.

Sorry if you are bored with this but

I can't help myself when it comes to contest especially

with some great prizes like this contest!

For this contest, I've selected this special photo:

The baby's name: Hafizah binti Ariff.

Age: 2 1/2 years.

Mommy's name: Nuradyani binti Rosly.

This contest is closed by: 20 Jan. 2010.

If you are also interested to join (it's open to babies 0-3 yrs old), visit here.
Here are the prizes:


1st prize :

1)Barangan Tupperware Brands
2)Koleksi Baju di blog ini (mengikut jantina dan saiz pemenang-jika tidak bersesuaian akan ditukar kepada hadiah lain)
3)Baucar 15% sweetlovelyshoppe
2nd prize :

1)Koleksi Baju di blog ini (mengikut jantina dan saiz pemenang)
2)Baucar 15% sweetlovelyshoppe
3rd prize:

1)Koleksi Baju di blog ini (mengikut jantina dan saiz pemenang)
2)Baucar 15% sweetlovelyshoppe

3 Consolation Prize:

Baucar 15% sweetlovelyshoppe