Can you see the 1 Superkids badge on the side bar? Do you know what does the badge represent?
Are you interested to know more?
Well, then it's actually a cool site for parents, parents-to-be or even for the extended family members.
Why is it so cool? Here is why.....
1SuperKids is established for parents, aunties, uncles, etc. as a sharing platfrom to share and learn about other experiences, not only in parenting, but also everyday tits and bits as parents and parents to be.
1SuperKids is collaborating with Conteng-Conteng, where Conteng-Conteng is an online gallery where our children could submit and sell their artworks.
1SuperKids needs your entries and we'll publish in 1SuperKids accordingly. The best articles of the month will receive tokens from 1SuperKids.
1SuperKids has dedicated columnists whom are very well versed in their field.
If you would like to gain a lot of benefits from this cool site, come and help 1superkids.com to GROW, GROW and GROW.The admin has launched a campaign called "Help-Me-To-Grow".
And this is the badge: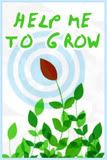 (again this badge is also on the sidebar)
So, what are you waiting for? Sign-up today as 1superkids.com member and enjoy the benefits. From my point of view, 1superkids.com is like the soil itself. We as the members would be the trees. Trees need sun (the 1superkids columnists), water (the articles from the columnists) and most importantly, the fertilizers (the contributions from the members as we can submit our article too-cool right?).

Are you convinced now or you are still not sure? Don't worry, it's so simple because you just visit the site 1superkids.com and take a look around before you make up your mind to sign up. Once, you are happy, satisfied and convinced, just sign up by clicking at the sign up word under the header.