Salam to all,
NEVER GIVE UP
When you think there's no way out,
Just hold on,
When you've tried and then failed,
Just keep trying,
When you think you have no hope,
Just remember not giving up,
Because,
When you never give up,
ONE DAY,
You'll achieve your dream,
You'll be a winner.
Why do I wrote the poem? adakah sy sedang beremosi skrg Or you think that it's just out of blue
I want to share a motivational poem?
That's all wrong. I'm actually feeling so over the moon when I found out that I won the consolation prize for the campaign that I wrote to promote 1Superkids in a contest called "Help me To Grow". After I try my luck in 46 contests, this is the first time ever, I manage to win something. That's why I wrote that "Never Give Up" poem. I reckon if it's meant to be, it'll happen. (dah rezeki kan ALHAMDULILLAH).
Thanks to 1Superkids and the sponsors. Congratulations to other winners; CutieCaliph, Hanz, Halimbalqis, Applecrux and Precious-Innocent.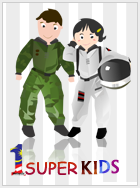 If you want to read my entry , you can click
here.