Two years ago on her third birthday, Fathini received a special book called "The Best Ever Big Sister". It's written by Karen Katz and it's a lift-the-flap book (tak tahu siapa yg hadiahkan buku ni). She really loves this book and it's one of the books that must be read to her before she goes to sleep every night. Now she can even add some wordings by creating some of the things that she can do. She always says after I finished reading the book, "Mama, I want to be the best ever big sister!". Of course I'm proud to hear her saying that. Thanks to the person who gave this book to Fathini
masalahnya tak tahu kwn yg mana. huhu
, I have less trouble in teaching Fathini how to a responsible big sister. I myself is a big sister;I mean I'm the eldest. I have two younger sister and 5 younger brothers. There's a huge responsibilities that the eldest child needs to carry. It won't stop even after your younger siblings have grown older and have their own families.
Let's get back to the book. Here is the image of the book that I took from Amazon.com.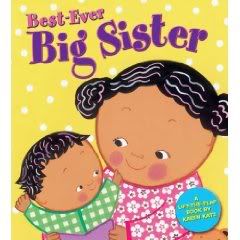 Some of the lines in this book are:
I'm a big sister. My baby sister needs somebody to dress her. But I can...get dressed all by myself.
I'm a big sister. My baby sister has to ride in a stroller. But I can... ride my trike.
I'm a big sister. My baby sister eats with her fingers. But I can...eat with the fork and spoon.
I'm glad that not just Fathini but Hafizah too has shown some interests in reading. What makes my job easier to instill the interest in reading is there are few local libraries that we can go to here. (in Hamilton, NZ). Those libararies provides wide range of children's books, dvds, children magazines and even puzzles. We are sure going to miss going to the local libary here once a week when we go back to Malaysia. We might have to have our own library at home to make sure my daughters will continue to be interested in reading. I've bought a huge set of books when I was pregnant with Fathini.
such an ambitous mom right.hehe
I remembered when my siblings and I were small, our parents encourage us to read a lot. They bought us some educational book sets and I knew about all of the prophets history by reading "Sirah Nabi" set. I plan to buy some islamic books for my daughters too once we go back to Malaysia. I want them to learn about various types of fields and definitely learning more about our religion should be our top priority.
Fathini in Hillcrest library.